GREY MAURITIUS
Famously Effective
Grey Mauritius is a creative advertising and digital company partnering with some of the world's most ambitious brands to provide innovative and effective integrated brand marketing solutions which help our clients grow their businesses and realize their marketing goals.
Who we are?
Partner agency of Grey Global Group Inc.
Grey Mauritius forms part of one of the world's largest advertising agencies, Grey Global Group Inc., with offices in 83 countries.
Advertising
Customers are people with different wants and needs. Famously effective ideas are built on insights we get from these customers who we have to understand. And the ideas explored are then expressed into products which will deliver what these customers want at the right time.
Digital
To stand out from the crowd, an agency needs to be able to help businesses to engage with specific target audiences through social media strategy, brand strategy, web design and development, mobile and web app design and development, online advertising, search engine optimization and marketing amongst others. We are here to make our client stand out.
Branding
We have all the assets needed to create a unique identity and a clear message to allow any client to connect to its customers and the community in ways which will resonate profoundly.
Activation
Our aim is to create an emotional connection with customers for our client's brand by opening a two-way long term engagement with them through awareness campaigns that sticks in their minds.
Media Buying
Media buying, such as ads placed in newspapers, television, radios and billboards, is an area where we make a difference in our knowledge of pricing, scheduling and results-oriented media platforms.
Grey Mauritius in figures
30 employees
20 local brands
20 international brands
Contact Us
Grey Mauritius
19 Rouget Avenue, Soreze
Pailles, Mauritius
Tel: (+230) 286 5858
Facebook : www.facebook.com/greymauritius/
Linkedin : www.linkedin.com/company/grey-mauritius
Website: www.greymauritius.com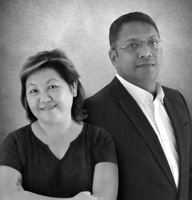 « Hans Puttur is a Fellow Member of the Chartered Institute of Marketing with over 17 years' experience in advertising, marketing and communication. His expertise lies not only in communication strategies and strategic planning but also in his flair for new businesses and branding.
His extensive knowledge has enabled the successful positioning of the company's clients as market leaders. Hans Puttur believes in effective advertising that creates lasting consumer connections and elevates brands to unexpected heights and fame. His industry experience includes telecommunications, FMCG, banking, insurance, transport, entertainment and gaming. Entrepreneurial by nature, Hans Puttur has also been part of the successful production of the world acclaimed reality TV show « Who Wants To Be A Millionaire » for Mauritius.»
Hans Puttur, Director
« Alix Chung has over 15 years' experience in design and advertising, having worked at well-known agencies in Cape Town, London and Mauritius. With her vast experience, passion and enthusiastic nature, she inspires creative teams.
Alix Chung has a keen eye for detail which ensures impactful and effective advertising. With a sound knowledge of applying design to print, she also helps the production team in delivering quality work. She has worked extensively with impressive brands in industries such as banking, FMCG and hospitality.»
Alix Chung, Director