Redhouse McCann
Redhouse McCann is a full service Advertising agency offering strategy, information insights & consultancy, branding & identity, direct/digital marketing, media management, public relations, packaging and website design. We operate in Mauritius and are the McCann Hub for the Indian Ocean.
Who are we?
Our mission: Powering brands with Truth, well told!
Our history: Since we opened our doors  in 1998 we have been many things to many clients, locally and regionally, constantly evolving and adapting to our clients and market needs, powering up brands that are entrusted to our care and contributing to the expansion of their full potential. We have a reputation for packaging and creative consumer advertising but are also strong on digital development. Our work for non-profit organizations has a particular way of standing out. Our affiliation to McCann Worldgroup, the leading global marketing firm providing today's marketers with best-in-class strategic and creative services to meet their brand-building needs across all communications channels, exposes our team to international standards and offers our clients expertise beyond our boundaries. The leadership and structure of the agency is independent, backed by the world's largest advertising agency network's resources and intellectual capital, with more than 180 offices in over 120 countries. The agency is built on the power of Truth to transform brands and businesses.
Our team: Francois de la Rochefaucould once said "To listen closely and reply well is the highest perfection we are able to attain in the art of conversation…" We are after all in the business of creating conversations, whether between brands and people or from business to business. Our team is made up of people who listen closely so that they will be able to reply well. Listening means that we are curious. The world evolves rapidly, curiosity keeps us abreast of changes and able to respond with transformational solutions. Our team has solid brand culture, organized and rigorous, constantly on the alert for new campaigns, ideas, analyzing marketing data and communication territories. We are enthusiastic, persistent and intelligent and committed to our clients' business.
Contact Us
B3 La Hausse de Lalouvière street, Floréal 74106
Tel: +230 698 67 43
Email: Click here
Website: www.redhouseadvertising.com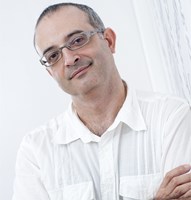 A Director with the mind of an engineer (he is after all the only paper engineer in Mauritius) Helder spearheads all communication strategies with passion, driving his team towards creative excellence to power-up and transform our client's businesses. He began his career in Johannesburg where he worked for 10 years on accounts such as British Airways, Colgate, Edgars… His experience spans financial services, automotive, FMCG, entertainment, consumer services among others.

Helder De Oliveira
FILIPE
Director
DATE OF CREATION:1998