Immedia
Unique in its field and the region, Immedia is a pioneer in Communication, Production & Event Management. Immedia's motto is to share "all that's good, nice and beautiful" in the world of arts and culture.
Who are we?
Immedia started off as an advertising agency, thereafter specializing in Show Business, PR and CSR Project Management. As a Mauritian private sector entity, Immedia has initiated, produced and organized the largest number of international shows and concerts, from Francis Cabrel, Jean Jacques Goldman, Jagjit Singh, Gad Elmaleh, Dr L. Subramaniam, Earth Wind & Fire Experience to Alka Yagnik, Shaan, the Bolshoi Ballet,  Shaolin Masters, theatrical plays, various national artistic contests, from music and humour to Ballroom Dancing and literature.
Collection Maurice, edited by Rama Poonoosamy and published by Immedia with short stories of Mauritian authors in English, French and Mauritian Kreol, still marks the literary scene annually and hitting its 20th year. Immedia also produces its own shows abroad, and has promoted the image of Mauritius amidst world icons and celebrities through its own contacts and glamorous  events.
With the Association of Adverting Agencies, Immedia also organized the first Advertising Awards Night in 1995, promoting creativity, professionalism and togetherness within the industry, and some ten editions including International Awards followed.  Immedia also organized the one and only football match between two English Premier League Clubs in Mauritius, the memorable Aston Villa v/s Everton match.
With a staff of a dozen professionals, including the Agency Manager Kamini Bubooa and the Communications Manager Darma Mootien, Immedia acts as the PR and Event Management Agency for Mauritian and international companies. Immedia is still the only regular organizer of shows and concerts with local, regional and international talents.
Contact Us
Poonoosamy Building, St Georges Street, Port Louis
Tel: (230) 208 1030
Email: Click here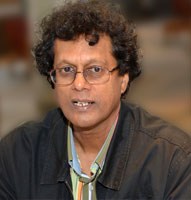 Rama Poonoosamy believes that the best way of achieving peace and harmony is through the experience of sports, arts and culture. Being the first Minister of Arts, Culture and Leisure of Mauritius in 1982, he founded Immedia five years later to continue his work with passion while preserving his freedom and independence. He believes that vision, hard work, team spirit, compassion and sharing, altogether open the way to happiness.
Rama
POONOOSAMY
Director